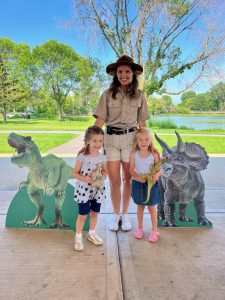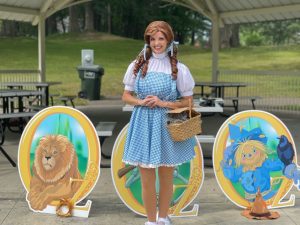 Take a look at these adorable props! Nicole is amazing! Her passion for children enrichment and entertainment is so great! We did these corrugated plastic cut outs with a metal easel stand on the back. Printed direct and then contour cut on our flatbed cutter.
Princess Party Pals is a Children's entertainment company that specializes in birthday parties, special events and preschool and daycare enrichment. 
We do over 70 characters including princesses, super heroes, rock stars, unicorns, mermaids, cheerleaders, villains, elves, witches and Easter bunnies. We have been in business for 16 years and love making children's dreams come true. 
Each summer we do a Story Time in the Park series throughout the Metro. This year we enlisted the help and expertise of RPM Graphics to create cutouts to help tell the story and decorate the set for our story times.  RPM Graphics created these dinosaurs for Park Ranger Rachel's Dino Adventure in Robbinsdale, and they also made the Scarecrow, Tin Man and Lion for our Wizard of Oz story time! The kids loved them and they added a new dimension to the story times to bring a theatrical flair. 
www.princesspartypals.com for your children's parties and enrichment events!
www.rpmgraphicsusa.com for you custom sign needs!