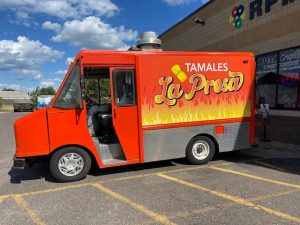 This truck came to us already bright orange. I fell in love with it right away. So cute! We were offered the opportunity to wrap the 2 sides and back, plus add a menu. Started with an idea the customer had in mind. We designed and printed the wrap. At install, the concept came to life! It turned out so colorful and very professional.
We used high performance long lasting wrap vinyl with colorful latex inks and a UV laminate to protect the print for many years to come. Installed by our knowledgeable installers.
LaPresa Tamales will be around the metro area, Minnesota. They have a very extensive menu. I am excited to find out where they will be and visit. 
We have a BBQ trailer and coffee trailer on our schedule! So more to come. Do you have a food truck or trailer in your future? Give us a call or contact us on your website. www.rpmgraphicsusa.com