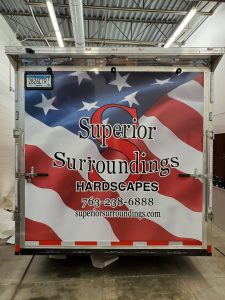 When you want to draw attention to your business, a trailer wrap does the job. This all American company shows its pride with a colorful display of the red, white and blue. Incorporating the logo into the wrap makes this trailer look very professional. 
The sides of the trailer we installed silver, black and white graphics, utilizing the red trailer side panels as the background.
Superior Surroundings is a Hardscapes company. Landscape Construction Design, Retaining Walls, Pavers and Boulders, Shoreline Restoration and Outdoor Living. 
www.superiorsurroundings.com
Contact us for your own professional graphics. www.rpmgraphicsusa.com to request a quote.