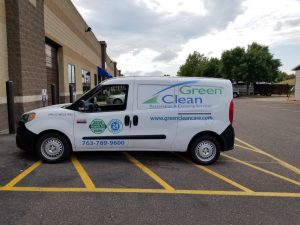 Vehicles for advertising and identification are a great use of your advertising dollars! Utilizing the miles on the road from project to project is huge. Thousands of views per day. Potential customers just going about their everyday business easily see what your company is all about. Show them who you are. A large percentage of people make decisions based on vehicle graphics everyday. Are you missing out?
Green Clean Restoration Services has a fleet of vehicles. These service vehicles are great again, for advertising but also for identification. When The Green Team arrives, you know who they are.

MINNEAPOLIS' FRIENDLY CLEANING & RESTORATION TEAM
Green Clean is locally-owned, with over 50 years of collective cleaning & restoration experience. Founded in 1996, Green Clean has established a reputation for delivering high-quality cleaning restoration services for homeowners and businesses throughout the entire Twin Cities and metro areas. We are passionate about our client's experience, which is why all of our services are backed by a 100% satisfaction guarantee.
It's our honor to restore healthy environments. In addition to water and smoke damage repair, we provide carpet cleaning, we remediate mold, clean up sewage and reconstruct after clean-up in your home or business. One of our greatest joys is developing long-term relationships with our customers and being a part of our community.
We'd love to get to know you and learn how we can help meet your cleaning and restoration needs! Give us a call at 763.325.9215 or email us at [email protected].
Contact us today for your vehicle graphics. www.rpmgraphicsusa.com
And for you collective cleaning and restoration services check out what the Green Clean Team can do for you at www.greencleancare.com
– Green Clean Restoration & Cleaning Services, Twin Cities, 763-284-9494 or www.greencleancare.com